Story
Project to Scale up Oxygen Supply and Vaccine Storage Capacity Launched in Borno State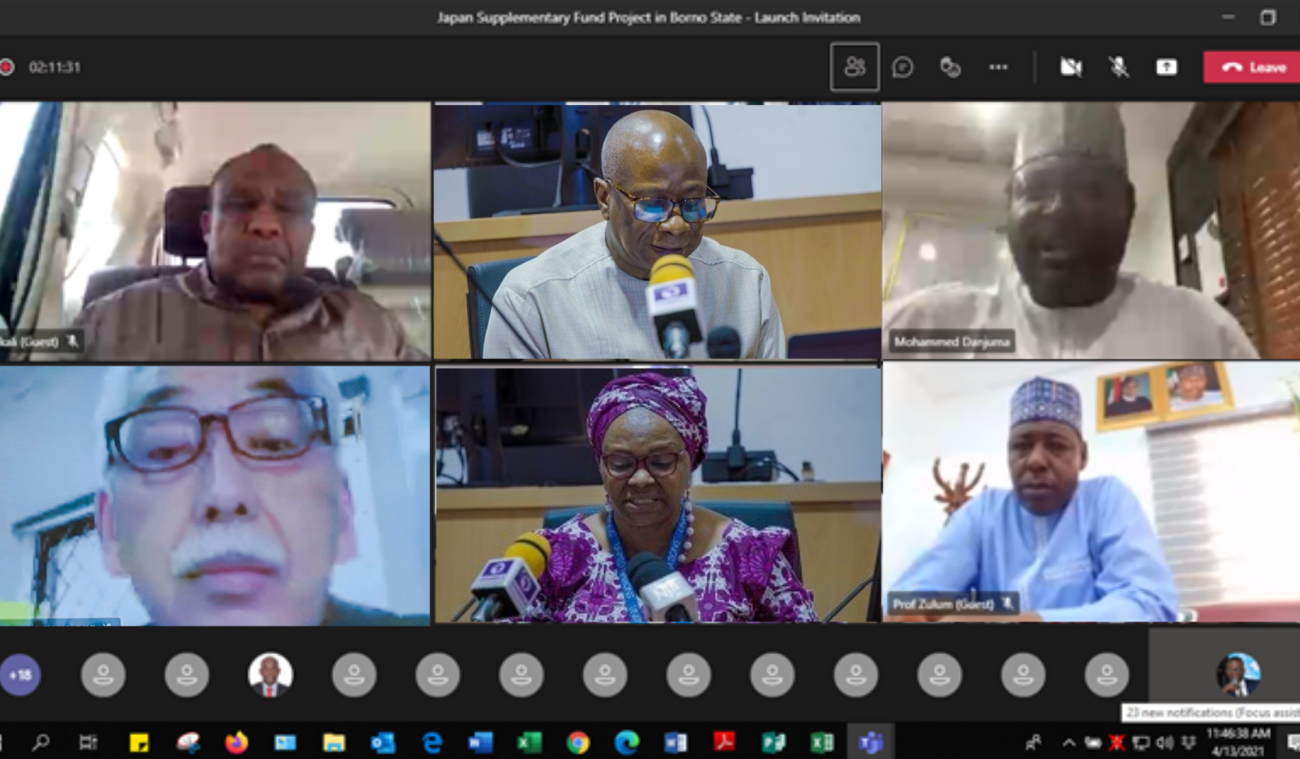 A total of $2.3M worth of funds has been committed by The Government of Japan for strengthening health systems in Borno State, Nigeria
Towards strengthening healthcare provision and building resilience of health systems in conflict-affected communities in Borno State, the United Nations Office for Project Services (UNOPS), in partnership with the Embassy of Japan in Nigeria, Borno State Government, North East Development Commission (NEDC), and Borno State Ministry of Health, has launched a project to scale up Oxygen Supply and Vaccine Storage Capacity in Borno State. With funding from the Government of Japan, the project titled, "Strengthening the health system in conflict affected and Hard to Reach Areas in Borno State", will be implemented over a 12-month period starting from 31 March 2021.
His Excellency, Professor Babagana Umara Zulum, the Executive Governor of Borno State, formally launched the project on Tuesday, 13 April 2021, at a virtual event with many stakeholders in attendance.
The project will enable primary healthcare facilities to provide acceptable standards of medical care in the wake of COVID-19 pandemic. It is expected to directly benefit approximately 7.1M million people within 26 Local Government Areas (LGAs) in Borno State, of which 24% are children and approximately 45% are women. Two new oxygen plants will be constructed and equipped within the premises of State Specialist Hospital Maiduguri and Biu General Hospital. In addition, 23 primary health centres within Borno State will be equipped with solar refrigerators to scale up vaccine storage capacity.
Governor Zulum thanked the Government of Japan for the tremendous support that has been rendered to the government and people of Borno State, and "I'm happy to know that the Government of Japan is providing another support through UNOPS to strengthen the healthcare system in Borno State. This is very important especially to our primary health care system because the insurgency has destroyed many health facilities." He said and requested that Borno State would like to lead on the process with respect to the institutional arrangement for project implementation.
Earlier in her welcome remarks, Mrs. Ifeoma Charles-Monwuba, Director and Representative of UNOPS Ghana Multi-Country Office (GMCO), emphasised that "UNOPS is well positioned to support the infrastructure development of the North east in line with its mandate and to drive an extensive oxygen response that increase the capacity of health facilities to meet the desperate need for oxygen therapy caused by COVID-19 to save the lives of children with severe pneumonia in Borno State, Nigeria."
Mr. Shinozawa Takayuki - Chargé d' Affaires a.i. of the Embassy of Japan in Nigeria hoped that the project, funded by the Government of Japan, would help  improve the health situation in Borno State which is in difficult circumstances because of insurgency and the current global health crisis. "Japan will continue to help to enhance the livelihood of people in Borno state and stand by the people of Nigeria, as partner, even in difficult times."He added.
Mr. Mohammed Goni Alkali, Managing Director of North-East Development Commission stated that the project would complement North-East Development Commission's on-going drive to bolster the healthcare capacity in the region and efforts to combat the pandemic by ensuring that diagnostic facilities are adequately equipped to handle any future outbreaks of infectious diseases and other health facilities upgraded. He added, "We remain committed to supporting all partners in efforts to improve the wellbeing of the people of the North East."
Mr. Edward Kallon, UN Resident and Humanitarian Coordinator in Nigeria stated that the project would complement all other interventions of the UN, greatly improve COVID-19 severe case management, build resilience of the health system and also improve emergency healthcare delivery in Borno State.
According to him, Borno State would be better equipped to treat children with respiratory illnesses and respond to COVID-19.  "The UN in Nigeria will continue to provide strategic support to the government of Nigeria based on the key competencies and comparative advantages of the collective UN development system. I am looking forward to the coming months and wish this project the utmost success," he said.
Prof. Husseini Isah Marte, the Chief of Staff to the Executive Governor of Borno State and Acting Honorable Commissioner of Health, stated that the scale-up of oxygen supply and vaccine storage capacity in Borno state was timely and highly appreciated. "After the completion of the project, the Ministry and the government of Borno State will ensure that the project is sustained over 50 years. And it's going to help mitigate COVID-19 impact, especially those that are hospitalised and indeed even non-COVID patients, where the lung function is compromised. Thus, we are highly grateful for the project." He explained.
Mrs. Sonja Varga, Head of Programme of UNOPS GMCO, provided an overview of the project, while  lessons from a similar oxygen plant project implemented by UNOPS in Kenya was presented by Mr. Philip Gatongi Maina, Project Architect of UNOPS Technical Services Unit (TSU) based in Kenya.
UN entities involved in this initiative
UNIC
United Nations Information Centre
UNOPS
United Nations Office for Project Services