Story
I Beat COVID-19, You Too Can - Says WHO Staff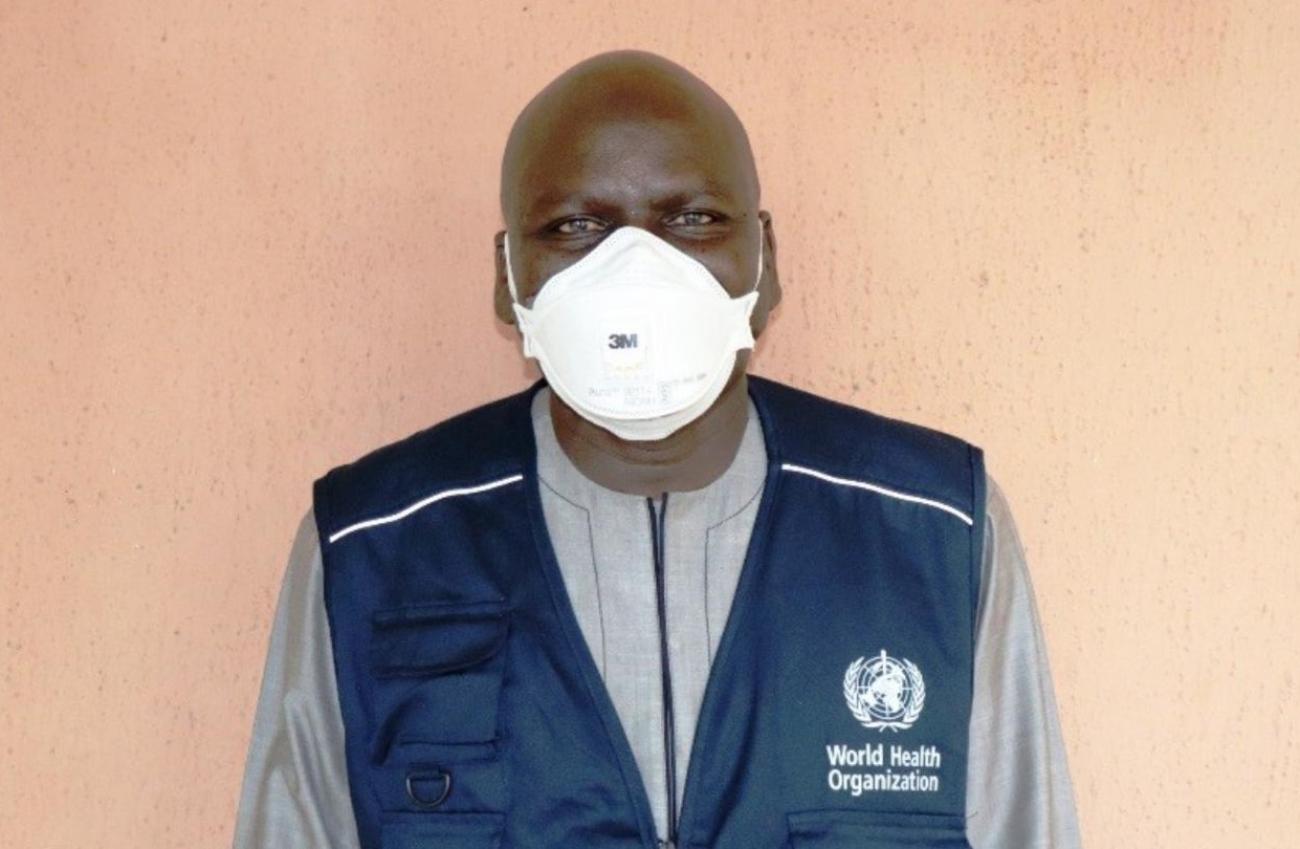 On 19 April 2020, the World Health Organization (WHO) in Nigeria confirmed the first case of coronavirus disease (COVID-19) as one staff member in the field tested positive. The Organization immediately swung into action, by deploying the needed support to ensure that the staff member received appropriate medical care.  The staff, Dr Haruna Ismaila Adamu who tested positive to covid-19 has finally been discharged from the case management center after spending three weeks of treatment at the isolation and case management center in Bauchi. Dr Haruna was infected through direct contact with an infected person in Kano three days before his return to Bauchi. He tells his story here with no holds barred.
The man, Dr Haruna Adamu
My name is Dr Haruna Ismaila ADAMU. I am 53 years old and happily married with children. I have been in the service of WHO for 19 years now; seven years with the Expanded Programme on Immunization and 12 years with the TB programme. Presently, I am a National Professional Officer-Tuberculosis, supporting the North Eastern region of Nigeria, coordinating Tuberculosis control activities in Adamawa, Bauchi, Borno, Gombe, Taraba and Yobe States.
Travel history and initial symptoms 
I travelled to Kano a week earlier for the Easter Holiday.  My extended family lives in Kano (Kano in Northwest is the second epicenter of the COVID-19 outbreak in Nigeria after Lagos in the South West).  During my stay in Kano, I interacted with my professional colleagues especially with one of my neighbours who tested positive. I immediately called Dr Adamu Ningi, the WHO State Coordinator to arrange for me to be tested.
He asked why and I explained that my neighbor in Kano with whom I had contact, tested positive and with the symptoms I had, I felt it was better for me to be tested. The initial signs and symptoms I experienced were sneezing, cough, fever and chills. I did not experience the challenge of chest pain and shortness of breath at all.
The following day my sample was taken and after waiting for 24 hours, I received a call from the ministry of health around 12.30pm that my result was positive. At about 1pm in the afternoon, an ambulance arrived at my house. I was taken to the isolation center at the Abubakar Tafawa Balewa Teaching Hospital here in Bauchi.
Understanding family as a necessary support system
It was easy to break the news to my family because I had kept them informed from the word go.  They knew of my initial symptoms, and the fact that I had requested to be tested.  So, when my result became positive, I simply convened a family meeting and broke the sad news, which all of them took in good faith.  They re-assured me of their support and that I was going to be fine. 
To be honest, I was so worried about the fate of my family. Fortunately, all my family members including our three domestic helps all tested negative.  Unfortunately, a WHO colleague and a security guard working in our office later on tested positive for COVID-19.
Psychosocial support
I received tremendous and consistent support from WHO, both from WHO Country office (WCO) and Bauchi office from first day of my admission up to the time of discharge.  The WHO Nigeria Officer in Charge (Dr Fiona Braka) was in contact with me by phone daily to encourage, comfort and assure me that WHO was solidly behind me.  Equally, I appreciate all the Cluster heads in WCO, WHO Northeast Zonal Coordinator as well as the Admin Officer, WHO Staff Association  President, WHOCTS Chairman and colleagues from all the  clusters nationwide called or texted to express their sympathy and support.  In fact, the WCO had made initial move to evacuate me to Abuja but for the contrary medical advice from my doctors.  The WHO Bauchi Office provided me with some essentials such as water, rechargeable fan, toiletries, etc.  Government support was tremendous since all the medications I received, the meals, the accommodation, the nursing care, diagnosis and follow up tests were all courtesy of Government.  My colleagues from UNICEF Bauchi also gave me a lot of psychosocial support.  
Facilities at the Isolation centre
The isolation facility provides 24 hours services:  I was given a private room (with a bed, bed sheet, blanket, toilet, bath, occasional running water, epileptic power supply, Air Conditioner, Television, Fridge and a drawer) . Following a review by the doctor, I was placed on recommended medication which included daily tablets, intravenous (IV) fluids, IV medications, Oral Rehydration Solution and Zinc tablets.
At the facility, I was monitored continuously: Blood pressure, pulse rate, %SPO2 (Oximeter), temperature (arm pit thermometer). I was also well-fed. I also had at my disposal, the hotline of the Nursing station to call for additional support.
Challenge experienced
My major challenge was with feeding.  I was not able to eat the meals being given to me by the government probably because I had completely lost my appetite and sense of smell.  So I requested that my wife be allowed to bring some food for me from home and this was approved and I began to eat very well.
Final word-COVID-19 is real!
COVID-19 is real, and so those that are still skeptical should have a rethink because as somebody who has experienced its symptoms, I do not wish that any person (even my enemy!) contracts it.  It is a nasty experience that could go either way: recovery or death, so the best approach is prevention.  We must learn to stay at home and observe social distancing and other preventive measures recommended by WHO and authorities.  This we must do for the sake of our families, the larger society and most importantly for our health heroes, the frontline health and medical workers who continue to risk their lives and those of their loved ones to give COVID-19 positive individuals the medical care they require. 
Post infection with COVID-19, I will redouble efforts to ensure that I and my family members remain healthy and enjoy quality life.  As a WHO Staff, our work is essentially to serve humanity, so, I will continue to offer help and support to those in need especially the weak and vulnerable in the society.  This is one of the ways that I can continue to contribute my quota to a better, healthier future for people all over the world.
To date over 20 WHO and UN personnel have tested positive to COVID-19 in Nigeria. Notwithstanding, the UN System in Nigeria continues to provide optimal support to the government of Nigeria in its response to COVID-19 pandemic
UN entities involved in this initiative
WHO
World Health Organization