Story
From despair to hope and aspiration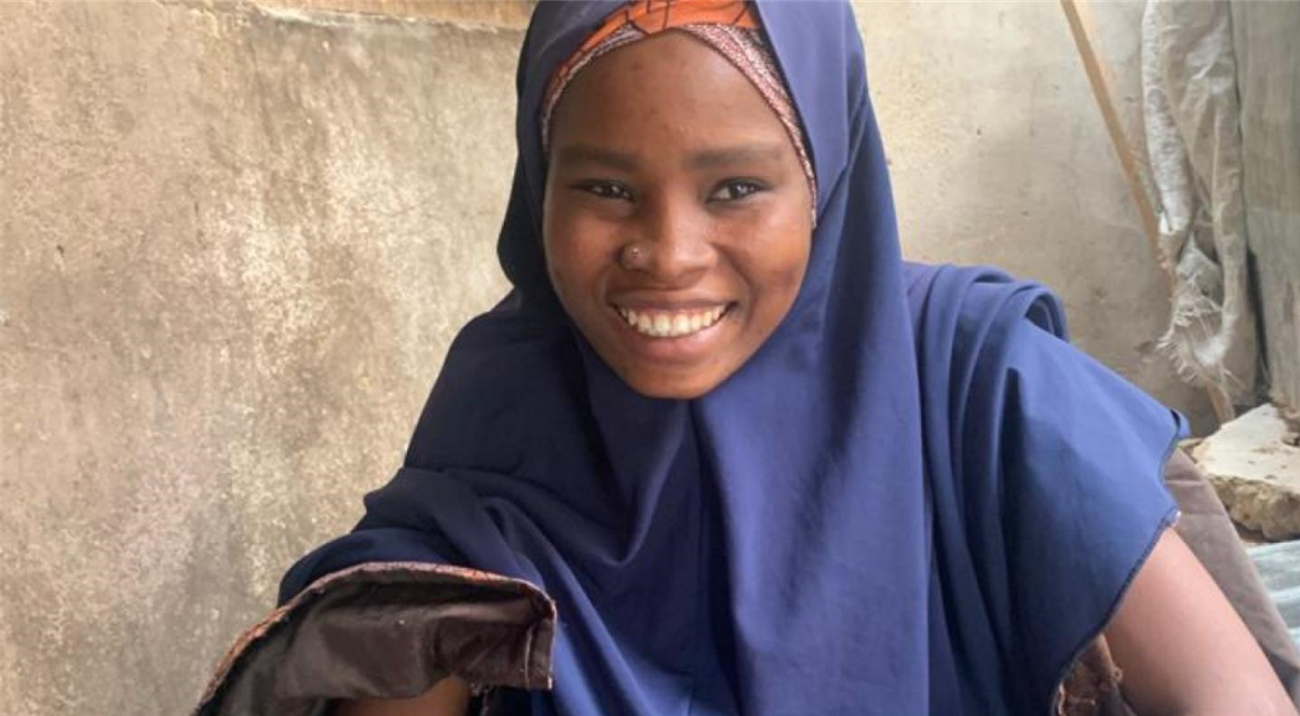 "Previously lacking education, skills and economic power, young adults in Borno are now finding a renewed drive to succeed."
Despite being affected by protracted conflict from a young age, 20-year-olds Amina Usman and Mohammed Aji Goni are now taking charge of their lives using vocational skills provided by the Borno State Agency for Mass Education (BOSAME), in collaboration with UNICEF.
Amina used to attend school. But following the deaths of her two older brothers and two uncles during the armed conflict wracking north-east Nigeria for more than 10 years now, she was warned to abandon school or face the same fate as her loved ones.
Afraid for her safety, she dropped out in her first class in secondary school. As the crisis deepened, her father was laid off from his security job, forcing them to sell their once comfortable home and move to their current home in one of the many IDP camps in Maiduguri, the capital of Borno State.
But while life in an IDP camp has been a struggle, things are now looking up for Amina, as she is one of the 15,552 young people now equipped with vocational skills through a partnership between BOSAME and UNICEF, with funding from a three-year European Union education intervention project in north-east Nigeria.
She now earns about 15,000 naira (about 30 US dollars) monthly from the sales of snacks and local drinks she produces.
"With the money I earn from this business, my family and I survive – I can buy food and other basic needs. Just the day before yesterday, I gave my father 5,000 naira to support his farming business," - Amina Usman
It's a similar story for Mohammed, the oldest of seven siblings, who along with his family was displaced when he was 10 years old due to armed conflict. While he had never attended school, he used to assist his father in farming, rearing animals and selling farm products and other goods.
After moving from one transit camp to another, he and his family finally settled in Bakassi camp, one of the largest in Maiduguri, which accommodates thousands of displaced people from five local government authorities.
When Mohammed enrolled in school, his father, who was also supporting two wives and six other children, struggled to pay the fees. So when the golden opportunity from UNICEF and BOSAME to learn a vocation presented itself, Mohammed and many others jumped at it.
Today, Mohammed is a cobbler and earns between 6,000 and 15,000 naira each month. "It feels good to be able to support my family. For the Eid holiday, I gave my parents and siblings 6,000 naira each for food and new clothes. This I could never have done before" - Mohammed Idris
For these young entrepreneurs, a challenge has been the lack of start-up funds. However, the 9,000 naira lump sum provided by the program to augment transportation costs for trainees provided a solution for eager participants, who instead used it to buy materials and begin production. 
Realizing this, BOSAME began linking skilled trainees with business owners within the metropolis. This has a gone a long way in helping Mohammed earn a regular income. He now keeps his boss's rented space,  managing shoe and bag repairs. In his free time, his boss allows him to use his machines and tools to produce new shoes and to display them in his boss's shop for sale.
For others who are not as fortunate as Mohammed, a different strategy is employed. "We have told our instructors to provide access to all young persons trained by us for free. All they need to do is present their certificate and they can access the trainings centers and equipment to produce their products and sell," said Umar Lawan, BOSAME UNICEF Focal Officer.
Today, the once bleak future of these young adults has taken a turn for the better. Mohammed now pays his schools fees with ease and is currently enrolled in Primary 5. "I will be enrolling my siblings to join me in my school soon," he said.
Amina, on the other hand, is currently studying to be a teacher at the Borno College for Legal and Islamic Studies and is paying for studies so that three of her siblings can remain in school.
UN entities involved in this initiative
UNICEF
United Nations Children's Fund