Story
UN Women convenes female CEOs and board chairpersons as key allies in women's economic empowerment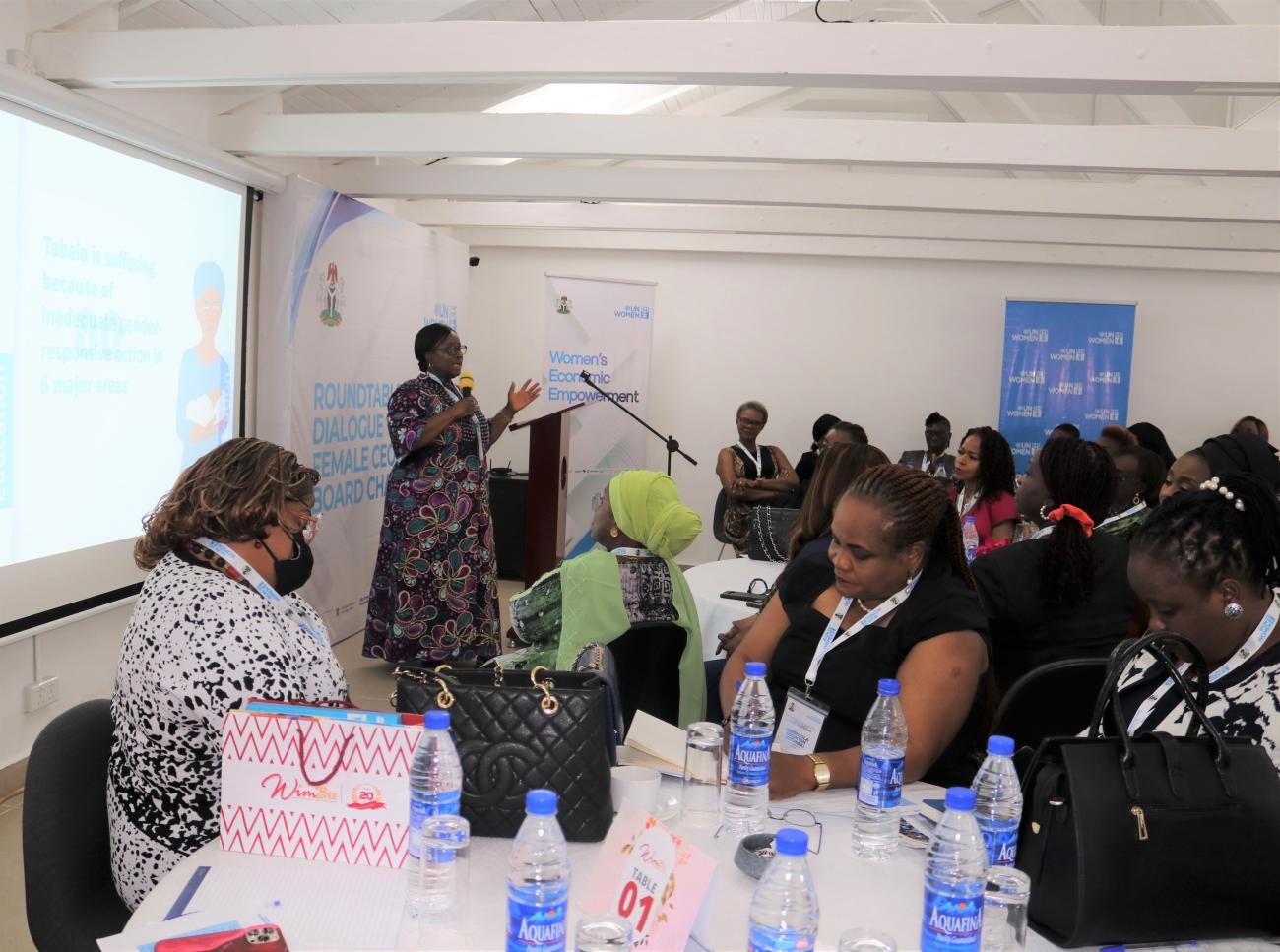 Overall, UN Women's purpose of convening female CEOs was to strengthen cooperation with the private sector.
As part of its commitment to expanding partnerships with the private sector, UN Women Nigeria Country Office hosted a high-level round table dialogue with top female CEOs and board chairpersons. This convening aimed to explore the strategic alignment of UN Women's and private sectors priorities towards attaining the Sustainable Development Goals (SDGs) in Nigeria.
In 2010, UN Women and the United Nations Global Compact developed the Women's Empowerment Principles (WEPs), which offer guidance on women's empowerment in the workplace, marketplace, and community. These Principles emphasize the business case for corporate action to promote gender equality and women's empowerment and are informed by real-life business practices and input from across the globe.
UN Women envisages the private sector's strengths and comparative advantages in Nigeria as essential to realizing the Sustainable Development Goals and the targets in its 5-year Strategic Plan (2022-2025). In addition, UN Women's global work with the private sector provides a blueprint for strengthening collaboration with the private sector in Nigeria.
Many companies are investing in SDG 5 by supporting women's economic empowerment. To date, multi-national companies have collectively invested more than $300 million and launched programmes on employment and empowerment globally.
'The private sector produces goods and services crucial for attaining the Sustainable Development Goals (SDGs), providing employment opportunities, and contributing to a country's overall development. UN Women needs female heads of companies and businesses as allies to create a movement for Gender Equality and Women's Empowerment within the private sector. We also encourage companies to sign up to the Women Economic Principles (WEPs) and create a network of companies to lead the economic revival, especially post COVID-19 pandemic' remarked UN Women Country Representative to Nigeria and ECOWAS, Ms. Beatrice Eyong.
Covid-19 recovery and impact on women
The United Nations Secretary General's policy brief highlights the social and economic impacts of the COVID-19 pandemic on women across four areas – financial, health, unpaid care, and gender-based violence. Other factor like fragility, conflict, emergencies where social cohesion is undermined, and limited institutional capacity and services, further amplify the impacts of the pandemic.
These negative economic impacts are most felt by women and girls who generally earn and save less and hold insecure jobs or live close to the poverty line.
Women are the majority of those employed in sectors that were worst hit by business closures, including the service sector and tourism. These sectors have limited protection against dismissal and limited access to social protection. The situation is worse in developing economies, where 70 per cent of women's employment is in the informal economy.
The crisis will likely roll back fragile gains made on women's participation in the formal labour market and have knock-on impacts on personal and family income, and gender equality.
During the deliberations, a linkage between the private sector and other previously left behind groups of women including women living with disabilities and women living in rural areas emerged.  There is a growing need to scale up financial and technical support to local women's cooperatives, especially those in rural areas. Participating in economic activities allows women to make positive changes in their own lives and their communities, with positive ripple effects for the whole nation. Markets provide great opportunities for increasing women's economic empowerment as they are central to livelihoods in Nigeria.
Overall, UN Women's purpose of convening female CEOs was to strengthen cooperation with the private sector and, more specifically: Seek alignment between UN Women's strategic interventions and private sector activities across priority areas; Raise awareness and advocate for adopting the Women's Empowerment Principles (WEPs), emphasizing the private sector's role in achieving SDG 5; and  Incentivize behavioural change for women in the corporate world by recognizing private organizations as allies for women's empowerment champions.
The event held in Lagos from 5-6 July 2022 drew participants across various sectors, including banking, finance, fast-moving consumer goods (FMCG), construction, oil and gas, media, and ICT. Notable attendees included Ibukun Awosika; Co-founder WIMBIZ & Founder/CEO The Chair Centre, Dr. Chinyere Almona, Director-General & Chief Executive, Lagos Chamber of Commerce and Industry and Ifeyinwa Ighodalo; Co-Founder WIMBIZ & Founder, DO.II Designs Ltd, among others.
UN entities involved in this initiative
UN Women
United Nations Entity for Gender Equality and the Empowerment of Women