Story
Hydroponics-grown Animal Feed Improves Livelihoods, Incomes In Nigeria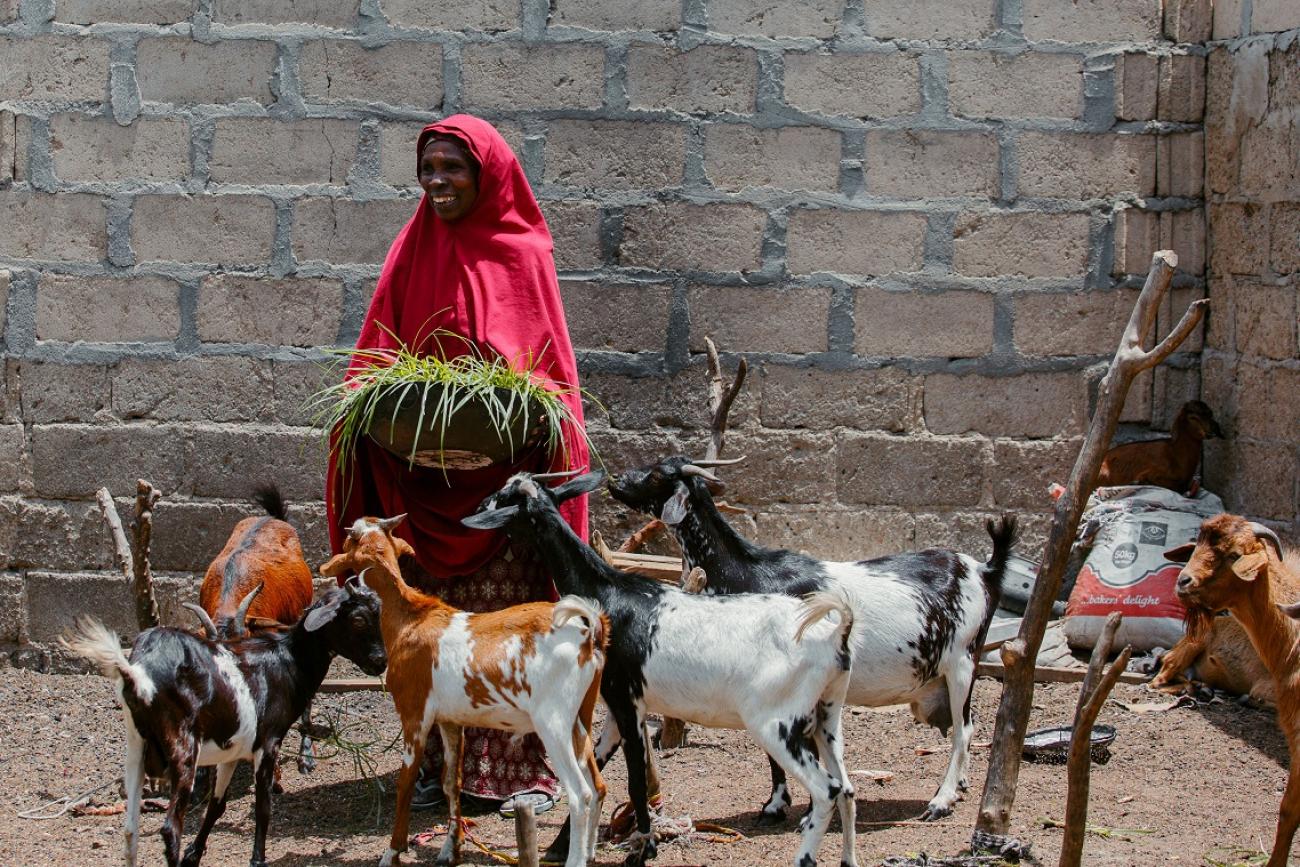 Before the hydroponics training, Nana received four goats as part of WFP's General Food Distribution emergency support that reached 193 households.
Over the past decade, the Malakyarari community of Borno State in Nigeria have been affected by conflict, which has negatively impacted livelihoods and household incomes. The conflict has threatened healthcare provision, caused internal displacement, and limited land usage for agriculture and livestock production.
This poses a problem because Malakyarari is situated in a semi-arid climate with a short annual rainfall duration and has rapid desertification rates of five kilometres per year. Because most of the land in Malakyarari has been used for trenches for security measures during armed attacks, there is even less space for the community to use for agricultural purposes.
50-year-old Nana defeats the odds by growing animal feed in Malakyarari's challenging environment by using low-cost and locally sourced material, enough for her livestock, and selling excess feed to her neighbours. Nana benefited from H2Grow, a hydroponics project under the World Food Programme Innovation Accelerator. In 2021, H2Grow facilitated the training of over 170 women in the community to grow animal feed with 90 percent less water on limited land.
Before the hydroponics training, Nana received four goats as part of WFP's General Food Distribution emergency support that reached 193 households. The knowledge she gained increased her number of goats from four to 17 by 2021 and improved her income
"I am passionate because it is easy to produce animal feed using maize seeds. I used to spend huge sums of money on livestock feed," says Nana. "Before I was introduced to the animal feeding units by WFP, I would spend about 2000 Naira (US$ 4.75) a day to feed my goats. I now spend 1000 Naira (US$ 2.75) in two days," she says.
WFP Programme Assistant, Delphine Ekpang, explains that most livestock farmers in the Malakyarari community are mainly pastoralists as their goats graze on natural grasslands and feed on cereal stalks after harvest.
"Before we introduced the hydroponic animal feed units, the majority of the Malakyarari community fed their goats residues of harvested maize and legumes from neighbouring farms for a fee ranging from 1500 Naira (US$ 3) to 3000 Naira (US$ 7) per 50 kg bag," Delphine explains.
"Some herders would let their goats roam freely in search of pastures, which exposed the goats to theft, diseases and weight loss," Delphine adds.
WFP and its partner Christian Aid continue to support people like Nana with veterinary support and guidance on quality animal feed production maintenance to avoid mould, which causes livestock diseases.
"We do routine visits and make sure people like Nana are supported. This sustains the hydroponic animal feed project so that the community continually benefits from the gains," says Delphine.
Delphine says she would like everyone in the Malakyarari community to adopt the hydroponics animal feed because of the beneficial opportunities, like livestock increase and improved incomes.
"I would like to see livestock farmers in Malakyarari adopt hydroponics production because good opportunities exist not just by producing the feed for household livestock, but also for sale to other livestock farmers because the market is potentially vast within the community," Delphine says.
UN entities involved in this initiative