Story
Hope away from home - World Refugee Day 2023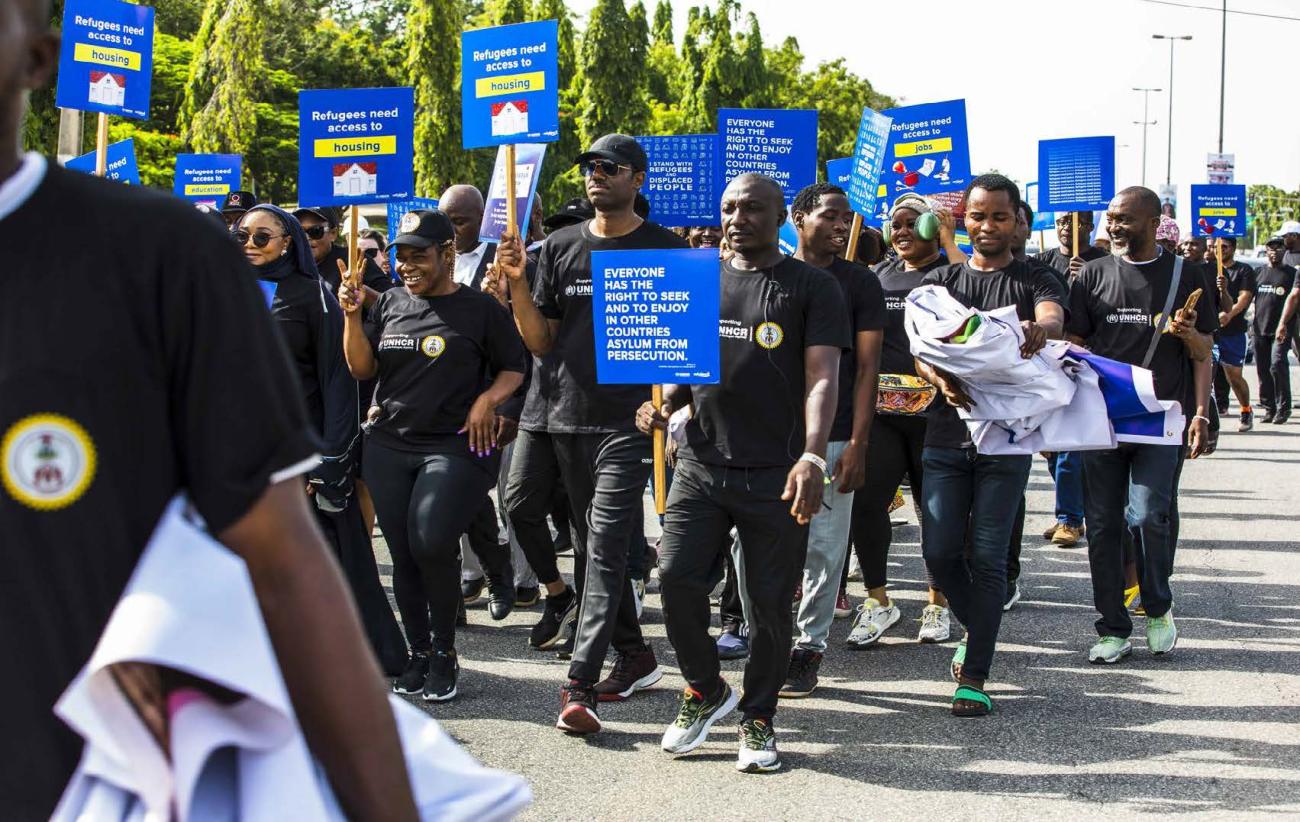 "Over the years, Nigeria has showcased a deep-seated commitment towards the well-being of refugees."
Each year on 20 June, the world celebrates the strength and cour­age of people who have been forced to flee their home country to escape conflict or persecution. A day to shine a light on the rights, needs and dreams of refugees, helping to mobilise political will and resources so refugees can not only survive but also thrive. And while it is important to protect and improve the lives of refugees every single day, international days like World Refugee Day help to focus global at­tention on the plight of those fleeing conflict or persecution.
This year's World Refugee Day focuses on the power of inclusion and solutions for refugees, with a tagline "Hope away from Home. A world where refugees are always included." The 2023 theme "Hope away from home", highlighted the need to give refugees the opportunity to study, work and live healthy lives wherever they find safety. And amidst global forced displacement at record levels, the need for solu­tions and hope for millions of people fleeing conflict and persecution has never been greater.
Since the conflict escalated in the North-West and South-West region of Cameroon, large numbers of refugees have fled to Nigeria through the southern border states of Cross River and Akwa Ibom as well as in the Northcentral state of Benue and Northeast states of Taraba and Adamawa. Nigeria currently hosts some 96,000 refugees and asylum seekers, out of which over 87,000 are Cameroonians.
Over the years, Nigeria has showcased a deep-seated commitment towards the well-being of refugees, not just in terms of financial and moral support but also in their comprehensive approach to as­sistance. Through the National Commission for Refugees, Migrants, and Internally Displaced Persons (NCFRMI) and the UN Refugee Agen­cy (UNHCR), among other partners, the nation has offered refugees protection, access to social services, livelihood opportunities, and op­portunity to work and become self-sufficient. Several advocacy walks were actively organized on June 19, 2023, each occurring in different locations such Abuja, Mubi in Adamawa State, and Ogoja in Cross Riv­er State. These walks were organised by agencies and partners work­ing to improve the well-being of refugees and other forcibly displaced people in Nigeria. The walk manifested solidarity with refugees and created awareness of the rising number of forcibly displaced people worldwide, especially in Nigeria, and the many complex challenges they face, ranging from stigmatization, inadequate access to educa­tion and healthcare, to mention but a few. The road walks also called on citizens to support refugees and other forcibly displaced persons as they strive to rebuild their lives.
The 2023 World Refugee Day continued its official commemoration on 20 June with a call by stakeholders for sustainable action in a collec­tive responsibility to create opportunities that unlock the full potential of refugees and empower them to rebuild their lives. The Honorable Federal Commissioner for NCFRMI, Imaan Suleiman-Ibrahim, noted the need to open doors and tear down barriers that hinder refugees' integration and inclusion.
"On this important day, let us pause to acknowledge the immense challenges faced by those forced to flee their homes, leaving behind everything they once own. Let us stand together, not only in solidarity but in unwavering determination, to foster a world where refugees are not merely survivors, but cherished members of our global com­munity. Today serves as a powerful reminder that no one chooses to be a refugee. It is circumstances beyond their control that force them to leave everything behind—their homes, their loved ones, and their familiar surroundings.
"Today, let us remember that every refugee has a story, a dream, and a unique potential waiting to be unleashed," she said.
According to her, refugees are not defined by their displacement but by their remarkable resilience, courage and unyielding humanity.
The United Nations Resident and Humanitarian Coordinator in Nige­ria, Mr Matthias Schmale in his message at the commemoration, said the theme for this year's World Refugee Day reminds us of our duty to protect and support refugees – and our obligation to open more avenues of support.
According to Mr Schmale, "We need greater international support for host countries, as called for by the Global Compact for Refugees, to boost access to quality education, decent work, health care, housing and social protection for refugees and host communities."
The United Nations High Commissioner for Refugees (UNHCR), Coun­try Representative in Nigeria, Ms Chansa Kapaya said, including ref­ugees in the communities where they have found safety is the most effective way to enable them to rebuild their lives and contribute to local economies and the countries hosting them.
She said it is also the best way to prepare them to return home and rebuild their countries when conditions allow them to return safely and voluntarily.
"Concretely, refugees seek to thrive within our communities, just like you and me. This means obtaining decent employment, acquir­ing knowledge in local schools, and availing themselves of essential services like decent housing and reliable healthcare. They strive for nothing less than to be engaged, contributing members of our society.
Inclusion also means forging friendships and showing solidarity with newcomers in our communities. We all benefit from human connec­tions and a sense of belonging. For refugees far from home, feeling welcome sows hope, we give refugees hope when we empower them to take greater command of their daily lives".
Refugees represent the very best of the human spirit. They need and deserve support and solidarity — not closed borders and pushbacks. We can all do more to give refugees more hope – and more opportu­nities – while they are away from home.
UN entities involved in this initiative
UNHCR
United Nations High Commissioner for Refugees