Story
ILO, NCF train community members on efficient wood stove production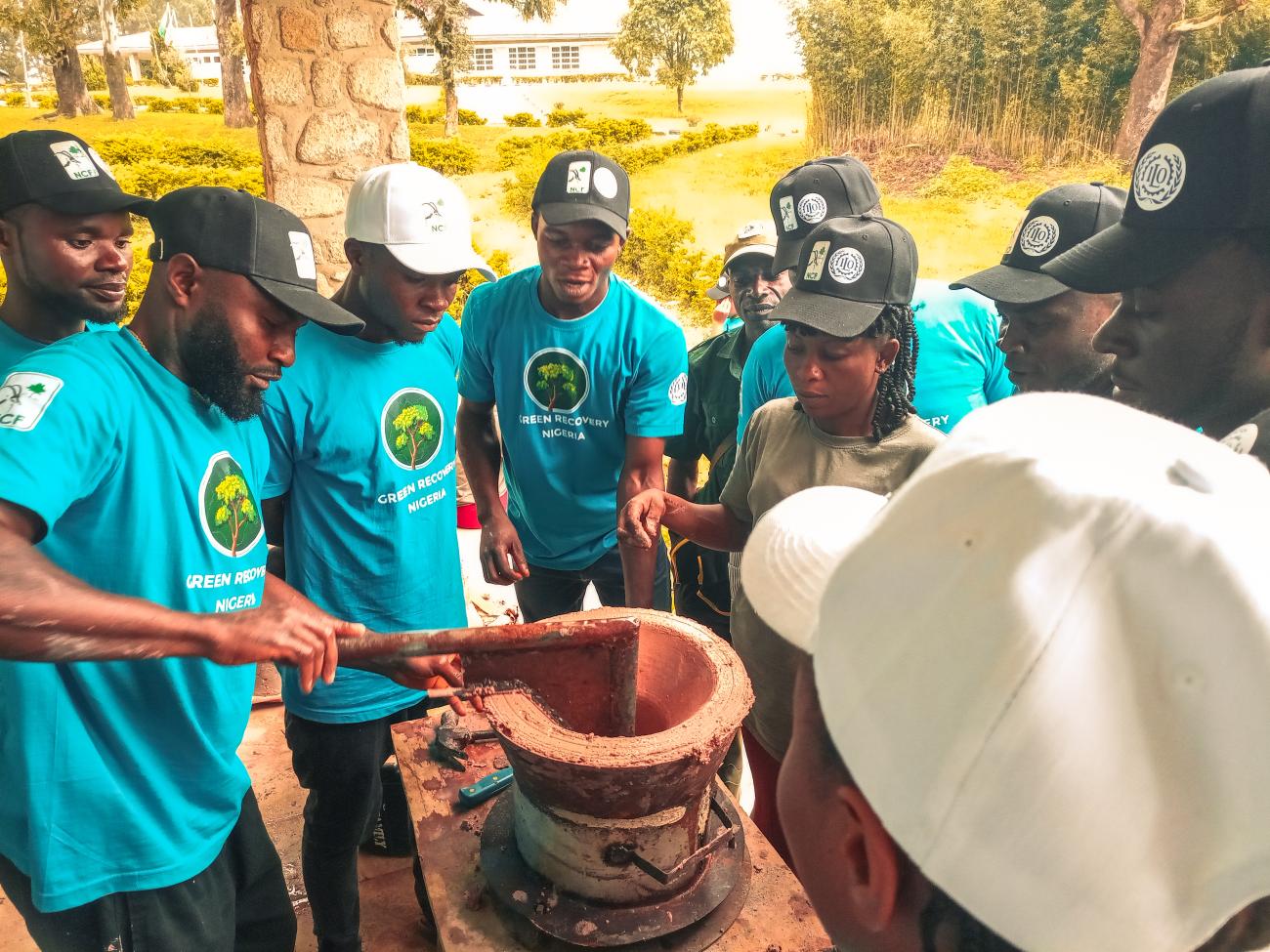 "The choice of Obudu was informed as Cross River State holds the last remnant tropical rainforest of the country."
The International Labour Organisation (ILO) partnered with the Nigeria Conservation Foundation (NCF) to implement a pilot project on Fuel Efficient Woodstove Production Training in Becheve community, Obudu cattle ranch, Cross River state, Nigeria. This activity was implemented under the ILO Just Transition and Green Jobs for Nigeria Project, which is an ILO regional project, the Social Dimension of Ecological Transition. The pilot project trained youths and women in the business of producing fuel-efficient wood stoves. This is also key action as specified in the Nigeria revised Nationally Determine Contributions (NDCs), and the Green Jobs Assessment Model (GJAM) which was conducted in 2020 by ILO, UNDP and NDC Partnership.
The choice of Obudu was informed as Cross River State holds the last remnant tropical rainforest of the country. These forests support several rural communities in livelihood and jobs for young men and women, ranging from tourism to trade in forest products. This forest is also vital in combatting climate crises and building resilience for locals. The current energy crisis is promoting the rapid depletion of these forests at an alarming rate to cater for household cooking. Furthermore, changes in weather conditions resulting from climate change because of forest degradation are causing an increased demand for wood for cook-ing. The situation is leading to forest depletion, which aggravates the area's climatic condition. While the communities are encouraged to stop cutting trees for energy, an alternative for them is critical, thus, the technical capacity development for selected persons in Becheve Community on fuel efficient woodstove production was proposed.
The training was also used to create awareness on the importance of the use of fuel-efficient wood stoves to minimise the use of wood fuel in cooking. This is also meant to re-duce deforestation in the target community, other forested communities, and Nigeria at large. The training was carried out in Becheve community, Cross River state from 29th May to 2nd June 202.
The main purpose of the training is to build the capacity of 30 youths (men and women) with the requisite green skills and capabilities of producing fuel-efficient woodstove and to create awareness raising campaign to inform local community members about safe access to clean cooking energy solution.
A selection process was carried out from 26 – 27 April 2023 to identify youths and women with considerable interest and zeal to learn this trade. The Becheve community consists of six (6) villages out of which five (5) participants were selected per village for equal representation. The villages under Becheve community are Keji-Ukwu, Okwa-Amu, Okpazange, Kigol, Anape, Apah –Ajili. Each community was requested to nominate at least two (2) female participants to ensure that at least 30% of the participants are women. In all, sixteen (16) fe-male and fourteen (14) males were nominated.
Preparatory activities such as production of training moulds, sourcing of clay, procurement of production tools and accessories were carried out from 19 - 25 May 2023 by JG Synergy. The production training was carried out in Obudu Mountain Resort, Becheve community, Cross River state.
At the end of the training, stove moulds, metal clads, and stove liners were presented to the participants, grouped according to their villages. This is premised on further production and step down of skills learned to other people in their respective communities.
Thirty (30) participants, across six villages that make up the Becheve Community, were selected for training of fuel efficient cookstove production with adequate inclusion of female participants (over 50%) and emphasis on youths for ease of learning, expected utilisation of skills acquired and sustainability.
UN entities involved in this initiative
ILO
International Labour Organization