06 May 2020 | 9:00 am — 25 May 2020 | 5:00 pm
Call for Jingles/Short Videos against Dis- and Mis-Information on COVID-19
UNESCO, as the UN Agency saddled with the promotion of freedom of expression and access to information is interested in empowering the society, with increased capacities of resilience in the face of "fake news", including dis- and mis-information that prevails at this time of the COVID 19 epidemic.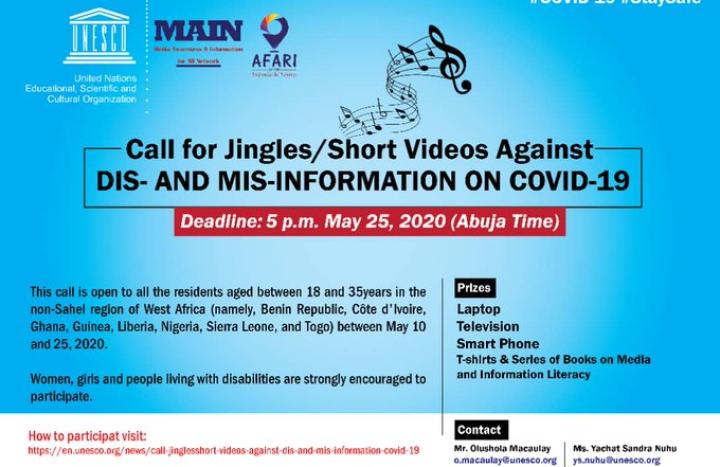 UN entities involved in this initiative
Goals supporting this initiative
5. Gender Equality
16. Peace, Justice and Strong Institutions
Location
Plot 617/618 Diplomatic Drive
Abuja
Federal Capital Territory
Nigeria
06 May 2020 | 09:00 - 25 May 2020 | 17:00
About the initiative
This call for jingles/short videos aims to:
* encourage young women and men to identify dis- and mis-information on COVID-19 through monitoring and fact-checking of various sources of information;
* leverage on innovation and creativity of young people to make appropriate response to the dis- and mis-information on COVID-19;
* sharpen the critical thinking antennae of the general public for relevant information on COVID-19, focusing on the media and information literacy enhancement and the competences regarding empathy, critical inquiry and compassion under health emergency.
Guideline and Rules
This call is open to all the residents aged between 18 and 35 in the non-Sahel region of West Africa (namely, Benin Republic, Côte d'Ivoire, Ghana, Guinea, Liberia, Nigeria, Sierra Leone, and Togo) between May 10 -25, 2020. Women, girls and people living with disabilities are strongly encouraged to participate.