15 August 2020 | 12:01 AM - 7 September 2020 | 5:00 PM
Regional Commemoration of Global MIL Week 2020: Call for Comic Cartoon/Animation
This Call for Comic Cartoon/Animation on Media and Information Literacy is one of the series of activities under the regional commemoration of the Global Media and Information Week 2020 in the non-Sahel region of West Africa, organized by UNESCO Abuja Regional Office.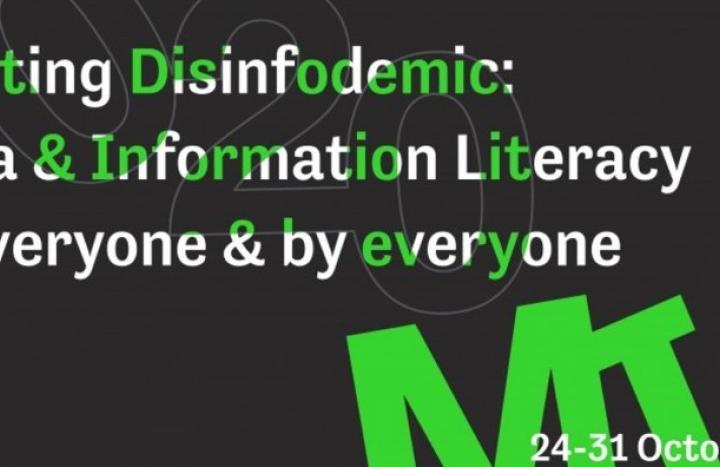 UN entities involved in this initiative
UNESCO
Sustainable Development Goals
Peace, Justice and Strong Institutions
Contact information
o.macaulay@unesco.org 
Location
Abuja
United Nations House
Diplomatic Drive
Nigeria
15 August 2020 | 12:01 AM - 7 September 2020 | 5:00 PM
About the initiative
Background
UNESCO Abuja Regional Office is launching a call for Comic Cartoon/Animation on Media and Information Literacy on the overall theme of "Creating a Peaceful Society: Media and Information Literacy, A Way out", for celebrating the 2020 Global Media and Information Literacy (MIL) Week (Oct 24 – 31, 2020). The overall theme highlights how to address disinformation and divides by recognizing and enhancing people's competences in MIL to improve today's communication landscape, and thereby building a peaceful society.
Objectives
The main objectives of this call include:
to call upon youth to take advantage of their innovation and creativity for concrete actions against disinformation, thus improving the media and information landscape in the region;
to empower a broader population with the knowledge, skills, values, and practices as critical-thinking citizens in societies, for better involvement in media development, access to information and knowledge for all, and freedom of expression which are necessary competence required to participate in policy making process that contributes to sustainable development; and
to diversify the interventions of promoting MIL, especially those youth-lead, creative and professional ones.
Activity Schedule
This call for comic cartoon/animation on MIL consists of three phases:
Phase 1: The call will be launched through official communication channels of UNESCO Abuja Regional Office (websites and social media handles) and with support of partners in further dissemination. All the qualified entries will be reviewed and rated by   selected professional  jury composed of communication and information experts.
Phase 2: The top ten (10) winners will be announced during the webinar commemorating the Global MIL Week, which will provisionally take place at the last week of October.
Phase 3: With needful professional improvements, the top 10 comic cartoons/animations, plus some other outstanding ones determined by the  jury, will be compiled for publication and widely disseminated in the region and beyond for a bigger impact.
How to Participate? – Guideline and Rules
This call is open to all the residents aged 35 and below in the non-Sahel region of West Africa (namely Benin Republic, Côte d'Ivoire, Ghana, Guinea, Liberia, Nigeria, Sierra Leone, and Togo) between August 15 and September 7, 2020. Women, girls and people living with disabilities are strongly encouraged to participate.
The theme is "We Are Superheroes Combating Disinformation/Fake News/Hate Speech". The comic cartoon/animation should  educate the public (or a target group) on MIL, which tells a real-life or adapted story, or other mechanisms making the best use of your innovation and creativity.
Steps for Participation
Step 1: Carefully read the entry guideline and rules and smartly utilize various resources to have a foundational understanding of the media and information landscape in the region
Step 2: Create a narration of comic cartoon/animation, not more than three (3) pages in the A4 paper size, on the topic of "We Are Superhero in Combatting Disinformation/Fake News/Hate Speech"
Step 3: Submit both the Comic Cartoon/Animation in PDF version through https://forms.gle/2g8QnEyooNnJaCdm6
Submission Deadline: 5 p.m., 7 September 2020, Monday (Abuja Time/GMT+1)
Important Basic Rules
Entries can be English, French and Pidgin English;
Entries from both individuals and collective groups are acceptable, but a collaborative group will be considered as one participant while reviewing and prizing;
Entries within the framework of this call certifies and warrants that his/her/their works do not violate the rights of a third party and/or any copyright.
By submitting of their works, the participant authorize UNESCO to use their works for purpose of public information, including but not limited to publish the results of the call in the spoken, written, and/or electronic media – with the name of the creator(s) – and to exhibit or publish any of the submitted works anywhere in the world.
Evaluation Criteria (100 points in total):

Compliance with guideline and rules of the call (10%);
Relevance with the theme and demonstrated knowledge of Media and Information Literacy (30%);
Appropriate response to the current media and information landscape in the region (30%);
Being readable and appealing (10%);
Innovation and creativity (20%).
Prizes
Top 1: Camera
Top 2: Mobile Phone
Top 3-10: T-shirts and MIL publications
NB: All the participants, no matter winning or not, will receive a participating certificate awarded by UNESCO Abuja Regional Office.
Arbitration
By summiting of their works, the participants agree that the intellectual property of works is jointly owned by creators and UNESCO.
UNESCO reserves the right in their absolute discretion to disqualify any entry or participant, or to waive any rules in the event of circumstance arising outside its control which in their opinion, make it desirable to cancel the call at any stage. On all matters, UNESCO's decision shall be final.
Contacts